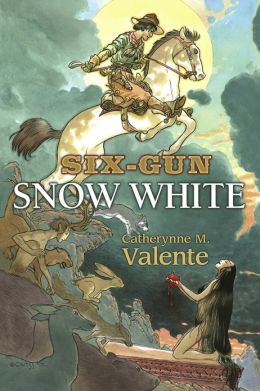 Six-Gun Snow White
by Catherynne M. Valente (Subterranean Press)
Trigger alert for this novella. It contains graphic descriptions of abuse, and what life feels like when you're badly abused.
Some spoilery thoughts behind the link:
"Six-Gun Snow White" is the Snow White faerie tale set in the Wild West. Snow White is "half Crow, half son-of-a-bitch" (aka half white rich narcissistic mining baron, which is the closest thing to royalty in this time and place). She endures a neglectful father, an extremely abusive step-mother, and a wider world which is largely hostile to the very essence of who she is. After much torment, she finally finds a happy ending of her own making.
I enjoyed the way Valente gave a spin to every aspect of the Snow White story. Everything. Every element of the Snow White story is completely changed up - so in spite of some of the names being the same, and some of the themes being the same, it feels like an original story. I also enjoyed the bits of Native (presumably Crow? I haven't checked) mythology mixed in with the European myth.
I'm not finding Evil Stepmother stories as magical as I once did. This stepmother - wow. She is extreme. Horrible, vicious abuse, both emotional and physical. Not only is she on a mission to make Snow White feel like a non-person by subjecting her to the same abuse she experienced growing up, but she then needs to harvest Snow White's heart to enable her own child to live.
Snow White felt like a very real person who endured so much pain and torture, she completely lost her will to live. She healed during her 100-year sleep and got her happy ending in a new world, far away from the people who had hurt her so badly. I am especially fond of the happy ending Valente chose for Snow White.
Overall, I found this story intense and much darker than I like, but very compelling. Once I got into the story, I couldn't put it down. It was a very disturbing story, on many levels. In the end, it's a story of hope and survival with a happy ending in which Snow White is able to become her own best self. Even with the "up" at the end, I was still left feeling very, very sad. So many people in the real world experience and survive these kinds of abuse (and worse), and it's very important that their stories be part of our landscape of "This is what it means to be us."
It is very hard, emotionally, to read. And quite a good, well-told story.
Up or down ballot (note for myself): UP, with slight reservations.
ETA: This story also hits on similar ethnic cleansing issues to
Aliette de Bodard's "The Waiting Stars."
It's an important story.