The Best Dramatic Presentation Short Form Hugo category is for dramatized productions in any medium. Short form means less than 90 minutes long. This year, it is again dominated by Doctor Who.
This little video clip perfectly sums up the reasoning behind my ranking of this year's nominees:
The lyrics are here if you're not able to watch YouTube where you are right now. Basically:

Intellect and romance triumph over brute force and cynicism!
In spite of the fact that Doctor Who has a habit of making me afraid of everyday objects (and this is just a small sampling):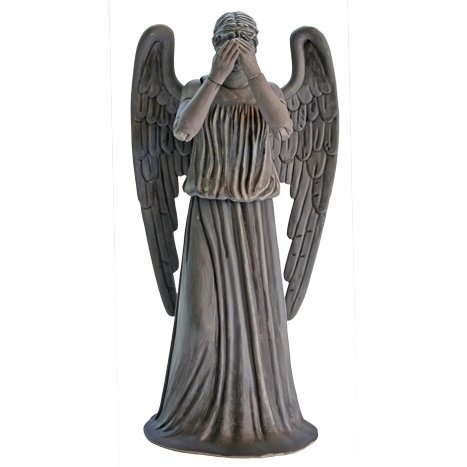 The triumph of intellect and romance over brute force and cynicism.
This is what I want out of my sci-fi/fantasy. This is what I want to reward. This is what I want MORE speculative fiction to explore.
If you know of other sf television that explores this theme, especially if they do so as consistently and beautifully as Doctor Who, please tell me in the comments!
Spoilery thoughts about this year's nominees and my ranking of the ballot are behind the link:
1.
Doctor Who:
"The Day of the Doctor"
written by Steven Moffat, directed by Nick Hurran (BBC Television)
I actually like this episode a lot. My main problem with the episode is that it's not at all what I wanted for a 50th Anniversary Special. Not even a little bit. Looking at it just as an episode of Doctor Who, though, I quite enjoyed it. The bit with The Curator, at the very end, was particularly nice. I was very happy they brought back Tennant and some of his Doctor's world. I l
oved what they did with the War Doctor. I really enjoyed the overall twists and turns of the plot, and the final solution to the problem.
The episode was a fun romp, and in many ways epitomized what Doctor Who is all about.
I understand that they wanted to give a lot of attention to the new Doctor Who of recent years since it revitalized the franchise and brought in a lot of new fans, but if we are celebrating 50 years of Doctor Who, there really should be more love for the entire run of the show. There are a lot of people still alive who should have been in a 50th Anniversary Special in some way! I have to confess, after watching the Five(ish) Doctors Reboot, I REALLY want to know if that's really them in the Undergallery scene!!
2. The Five(ish) Doctors Reboot
written & directed by Peter Davison (BBC Television)
Very silly and entertaining. I can see why people consider this the REAL 50th anniversary celebration. What a lot of fun, with all the cameos and everything. I highly recommend watching it, and you can watch it for free here.
3. An Adventure in Space and Time
written by Mark Gatiss, directed by Terry
McDonough (BBC Television)
I enjoyed this a lot. Quite a lot of history with which I wasn't familiar! I find myself wanting to go watch the old Doctors now. I've still never seen any of the First Doctor. I thought An Adventure in Space and Time was quite well done - though it seems more like it should be "related work?" That's the only reason I didn't rank it second place on my ballot.
4.
Orphan Black: "Variations under Domestication"
written by Will Pascoe, directed by John Fawcett (Temple Street Productions; Space / BBC America)
I'm enjoying this show a lot. Since the nominated episode is only the 6th episode and I needed a little break from reading, I just watched the series from episode 1 so I would know what was going on. I do wonder - why is this episode, the torture episode, the nominated one?? This was actually my least favorite episode so far. If any of the first five episodes had been nominated instead, I would have placed it higher on my ballot.
Tatiana Maslany is an incredible actor - even when she's playing one clone pretending to be another clone, you can tell exactly who her character really is. I'm really drawn into the story. I want to know what's going on. I almost continued to watch the rest of the season right then, even though I really don't have time before August
, with a double ballot to get through this year.
5. Doctor Who: "
The Name of the Doctor"
written by Steven Moffat, directed by Saul Metzstein (BBC Televison)
This was the culmination of a major plot arc for the season. It was a pretty good explanation for the weirdness we'd been trying to figure out all season. It was, however, an episode that spent a lot of time trying very hard to make us sad. I also suspect it would not have made a lick of sense to someone who had not watched the entire season.
It really wasn't one of my favorite Doctor Who episodes.
6. No Award
7. Game of Thrones: "
The Rains of Castamere"
written by David Benioff & D.B. Weiss, directed by David Nutter (HBO Entertainment in association with Bighead, Littlehead; Television 360; Startling Television and Generator Productions)
I almost didn't watch this Red Wedding episode. I know the story from reading the book. I knew it was well done, from the reactions of everyone I know who watched it before reading the books. I made myself watch it anyway, just to be fair. Yes, it was very well done. Why am I voting this below "No Award," then? Please see the top of this post, and this video clip referenced above. This is really, really gruesome stuff. It's dark, and it's horrible, and it's killing good guys and pregnant women and children and animals for no particularly good reason. This is the darkest of the dark this series had to offer in 2013. This is not the direction I want my sf to be going. I will not reward this.
And, even though I watched it pretty early in the day and watched a LOT of other things after it, I couldn't get to sleep for a really long time because I couldn't get the horrific images from this episode out of my mind. So, yeah. Something that makes me wish for brain bleach gets a "no" vote.