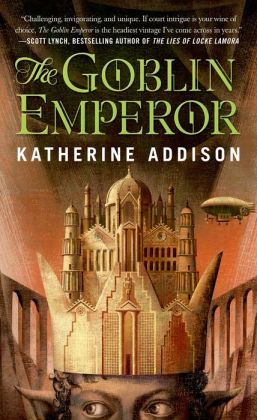 The Goblin Emperor
by Katherine Addison (Sarah Monette) (Tor Books)
This novel was not part of either Puppies bloc vote slate. I listened to the audio book version back in January.
Some spoilery thoughts behind the cut.
In a fantasy world with coal-black-skinned goblins and milk-white-skinned elves (among a few other varied races), there is much prejudice and court intrigue. Maia, half goblin and half elf son of the fourth wife of the Emperor of the Elflands, suddenly finds himself brought to court to become the new Emperor after his father and brothers are all killed in a freak airship accident. Maia has very little knowledge of court or how to be an emperor, having spent most of his childhood isolated in a distant stronghold with a physically and emotionally abusive guardian. Maia is a good and fair soul. With the help of friends and guides he picks up along the way, he strives to overcome the ingrained racial prejudices of the court, find who killed his father and brothers, and learn how to become a just and fair ruler of the Elflands. To a lesser degree, he also begins working to lessen the very strict societal restrictions on women. In the end, the bad guys get their just due, healing begins for most who need it, and Maia looks set to overcome the prejudices against him and become a good ruler of his people. It has a very fairy tale feel to it, which I enjoy. It is also a nice coming-of-age story.
I wanted to love this book. I have dear friends who loved this book. The world building was impressive and interesting. I prefer SFF that trends in a more positive direction, as this book does. But oh my goodness. Repeatedly, I got completely bogged down and bored with the endless court intrigue. If I didn't have dear friends who loved this story, I would have put the book down at several points. I persevered, and I did find myself caring about a lot of characters by the end, and enjoying the world they found themselves in. The plot just also felt simplistic to me. I think I expect a lot more complexity out of a Hugo-worthy work. I just couldn't get over the feeling that I've already heard stories very similar to this one, many times, and sometimes more craftily told.

The Goblin Emperor minds me a bit of the Sofia Samatar novel from last year's Campbell Award. That novel also had fantastic world building, and a lot of people loved it, but it still felt too slow-moving and flat to me.


I've already read four of the nominated novels, and am trying to re-read them all back-to-back before voting. I couldn't listen all the way through The Goblin Emperor a second time. The court intrigue... ugh, the court intrigue!
The more I reflect on this story, in fact, the more it feels like it's a slice-of-life story. There are lots of subplots that don't really completely get resolved, much like life. There are lots and lots and LOTS of details. Feelings and drama and angst and worry and joy. I think this really kindof sums it up for me right here. It's an interesting slice of life, and I found myself caring about some of the characters. But for me, it wasn't a compelling STORY.
Up or down ballot (note for myself): Down ballot. I read it before nominations closed and chose not to nominate it, even though I had empty spaces on my ballot. I enjoyed the world building and the positive direction of the story, but overall it didn't do a lot for me, and I repeatedly got bogged down.